Market News
Art Star Crap Bazaar at The Bourse: An Art + Craft Seconds Sale & Fundraiser
Posted on: September 3, 2021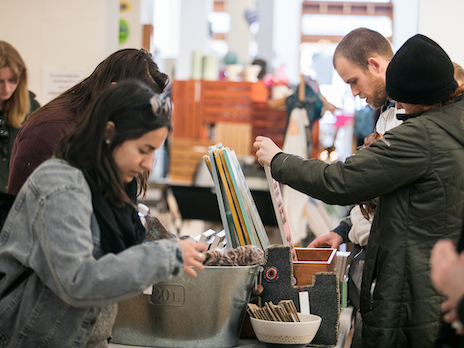 Art Star, the local boutique selling handmade artist designed goods located at The Bourse Food Hall, their annual CRAP Bazaar, a weekend-long rummage sale and fundraising event featuring crafts, wares and goods from over twenty local vendors, benefitting two Philly-based non-profits, on Saturday, September 18 and Sunday, September 19 from 11 am – 5 pm.  
The annual fundraising event, a quirky take on Art Star's popular annual Craft Bazaar, will be held in the retail space located to the left of The Bourse Food Hall's Fifth Street entrance and will feature twenty crafters and their "seconds" – items that didn't quite make the cut, samples, one-offs, etc. – at discounted prices. All sales are final and 25% of profits will be donated to two local nonprofits, ACLU of Pennsylvania and The Village of The Arts and Humanities.  
"The Art Star CRAP Bazaar is the perfect place to find a handmade treasure at a great price," said Megan Brewster, Co-Owner of Art Star. "There will be no fancy booth displays and no frills, just a bunch of big tables piled with stuff to rummage through – items from past seasons, items that vendors are just trying to get rid of, that are slightly 'off', but awesome all the same. It's a really unique opportunity for craft lovers in Philly!"  
The Art Star CRAP Bazaar is free to attend. Attendees are encouraged to enjoy lunch, dinner and bites before or after from select food hall vendors such as Freebyrd Chicken, Rebel Taco, Abunai Poke Bowl, Menagerie Coffee, and more. Masks are required inside the food hall, unless seated or eating at tables. 
Mark your calendars for a fun filled weekend of shopping and sales – we'll see you there!