Market News
Celebrate Oktoberfest at The Bourse Beer Hall
Posted on: September 4, 2019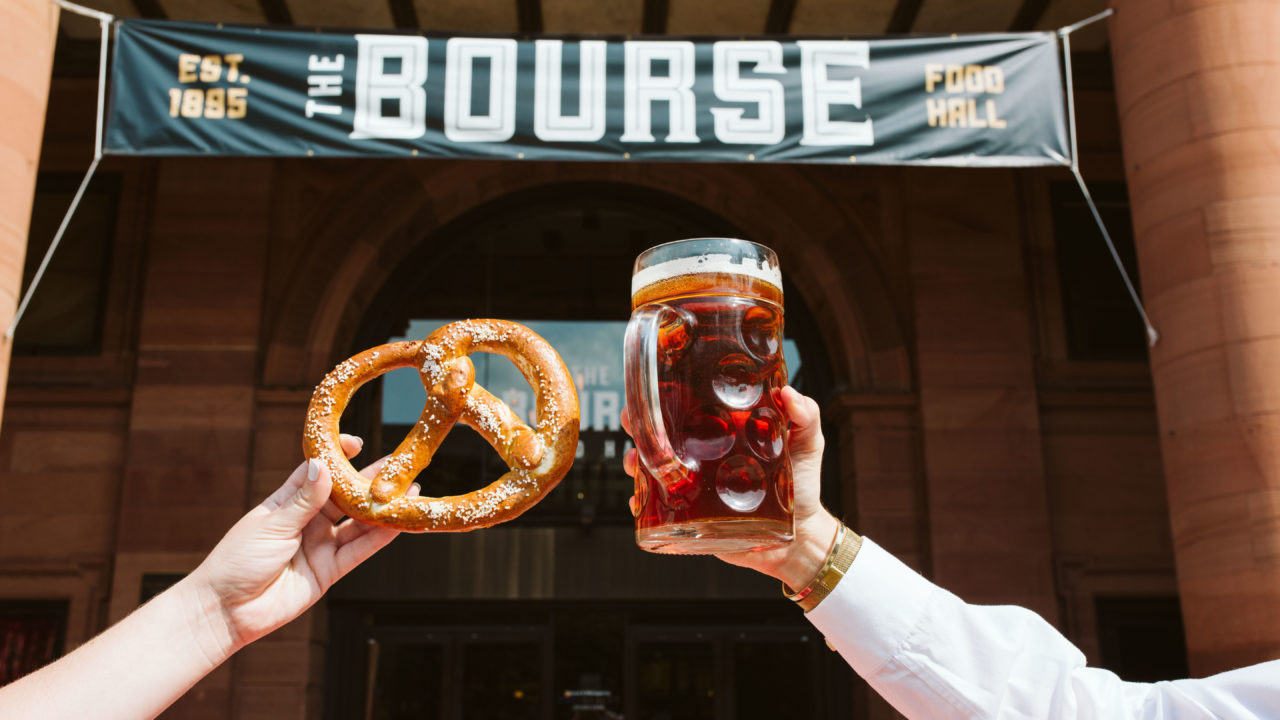 Lederhosen and Dirndl-sporting Germany lovers are invited to head over to The Bourse Food Hall on Saturday, September 21 from 12-6pm to celebrate Oktoberfest!
While Munich kicks-off its 186th Oktoberfest on the very same day, The Bourse Food Hall transforms into The Bourse Beer Hall for one day only! Indulge in German-inspired food from 20+ vendors and enjoy an extensive list of German-style beers that are available in keepsake mugs to take home. Guests can also look forward to a traditional keg tapping, face painting, performances from the United German Hungarians Schuhplattlers and Polkadelphia, and much more!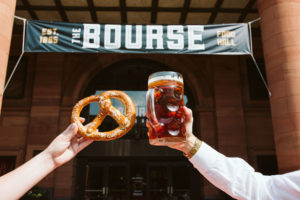 Participating vendors will offer their specials for the week leading up to the event.
#getfried Fry Café: Bratkartoffeln — fried potatoes with bacon and onion
Abunai Poke: Traditional Offerings
Baby Buns: G-Bun — German Sausage, BBQ sauerkraut, and mustard cheese sauce on a Philly Pretzel Bun
Barry's Buns: Pop-Up Pretzel Bar
Bluebird Distilling: Pumpkin Smash cocktail, Stable 12 Brewing Co. Oktober-Kolsch, and shot-ski specials
Bricco Pizza Romana: Flammkuchen — German-style pizza
Bronze Table: Konigsberger Klopse — German meatballs over butter parm ricotta gnocchi
Freebyrd Chicken: Chicken schnitzel sandwich, DAB Dortmunder Export, and Zero Gravity Oktoberfest
Grubhouse: Pork schnitzel and Hotdog with sauerkraut and Southern Tier Brewing Pumking Imperial Ale
Ka'Moon: Shawarma
Kari's Tea Bar: Hot Apple Cider and Chaider
LALO: Schweinshaxe — ham hock
Marino Bros.: Cheesesteak topped with Sauerkraut and Leinenkugel Harvest Patch Shandy
Menagerie Coffee: The Chancellor — double shot of espresso, orange bitters, whipped cream, chocolate shavings served hot
Mighty Melt: Dankeschön — grilled cheese with house-made sausage, cheddar, and sauerkraut and Tired Hands Austere Modular Four
Pinch: Knödel — German dumplings
Prescription Chicken: Chicken with herb spätzle soup
Rebel Taco: Black Forest Nachos with beer cheese and Yuengling Oktoberfest
Rustica Rosticceria: Bratwurst platter and Sierra Nevada Oktoberfest
Scoop DeVille: German Chocolate Ice Cream
TaKorean: Traditional offerings
TAPS Fill Station: German-style beers available in 12oz pours and traditional 1 Liter pours

Half Acre – Pony Pilsner
Half Acre – Lagertown
Lakefront – Imperial Pumpkin
Lakefront – Pumpkin Lager
Lakefront – Oktoberfest
Neshaminy Creek – Churchville Lager
Neshaminy Creek – Dunks Ferry Dunkelweizen
Neshaminy Creek – Punkless Dunkel
Urban Village – Oktoberfest
Urban Village – Stingy Jack
Von Trapp – Oktoberfest
Von Trapp – Golden Helles
Ein Prosit der Gemütlichkeit!