How I Met Your Mother "Slapsgiving" Quizzo
November 14, 2019 @ 6:00 pm

-

8:00 pm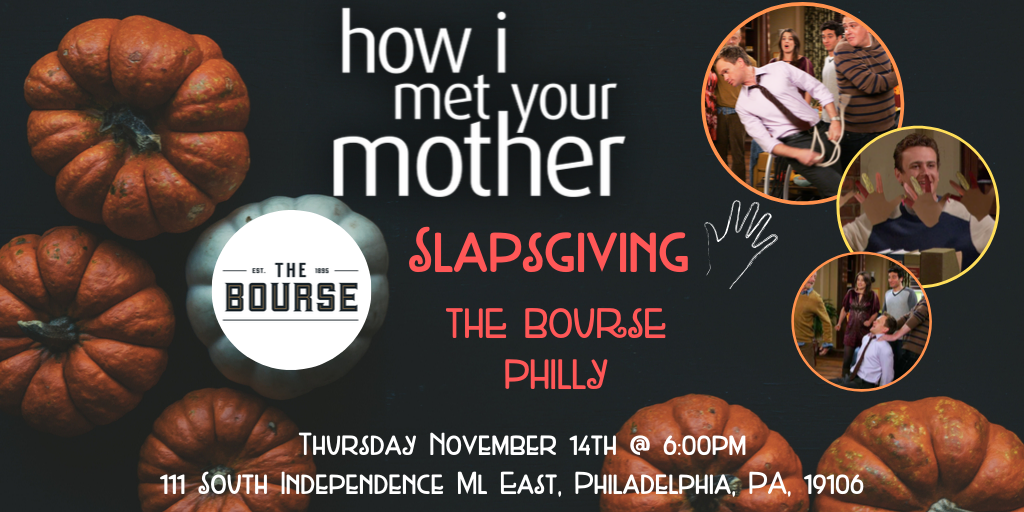 "We're going to eat turkey, and then I'm going to slap you in your face."
We'll be in the final hour of the countdown, so be sure to come to The Bourse for How I Met Your Mother Quizzo – Slapsgiving! on Thursday, November 14th starting at 6pm (By announcing the time, you ruin the suspense. You have shown your hand!) for FIVE challenging and unique rounds of questions with a couple of rounds dedicated to Slapsgiving!
Reservations can be made by visiting: https://slapsgiving-bourse.eventbrite.com
The best way to reserve tickets is by selecting a team captain and having them be in charge of tickets for ALL team members.
For example, if Barney, Ted, Marshall, and Lily are a team and Lily gets put in charge, she will then reserve tickets for Barney, Ted and Marshall = (4) in total.
PLEASE ONLY RESERVE SINGLE TICKETS IF YOU ARE PLAYING BY YOURSELF.
MAX TEAM SIZE OF 8 – A CONFIRMATION EMAIL WILL BE SENT CLOSER TO THE EVENT, PLEASE NOTE TICKETS CONFIRMATION IS REQUIRED OR YOUR TICKETS MAY BE SUBJECT TO CANCELLATION.
"Everyone knows March has 31 days. It's general knowledge."